Blog
View all
Webinar Series: Tech & Business Career Insiders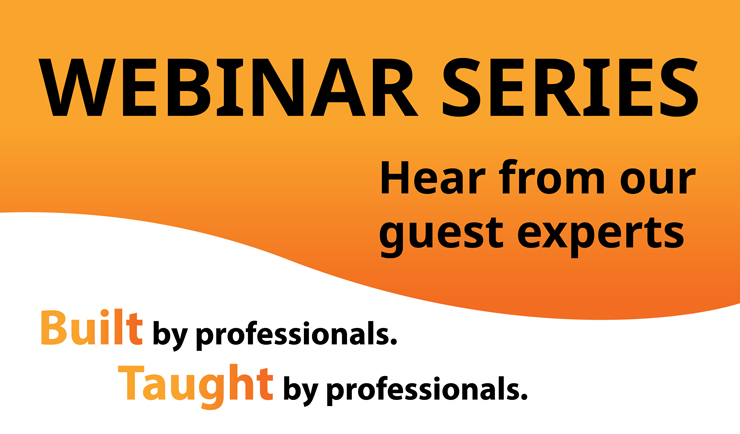 Last updated: 9/1/2021
Join our webinar series to get an inside view from industry leaders with behind-the-scenes perspectives. Discover invaluable insights from hiring managers, recruiters, professionals, and administrators that can't be found easily.
Hear from our guest experts in the field who are joining us to lead professional learners in this virtual environment. Upcoming live, free webinars are listed below. Click on the webinar below to register. Advance registration is required.
Check back here for future webinars for 2022.
For past webinars and their recording:
November 17, 12:00pm-1:00pm PDT
IT Apprenticeships – Benefits for employers and apprentices (Recording coming soon)
Apprenticeship programs offer both instruction and hands-on job training to job seekers who want to get into well-paying IT jobs. Learn from an experienced industry pro on what apprenticeship programs look like for an employer and an apprentice.
Guest speaker:
Richard Braden, Senior Director of Technology Apprenticeships at CompTIA is the managing director of a program designed to expand tech apprenticeships for critical and hard to fill entry level occupations across the country. He recently moved to CompTIA from Honeywell Building Technologies where he held global positions as a Director of Sales and Director of Training.
October 20, 12:00pm-1:00pm PDT
Digital Photography – What it means to go pro professional (click here for recording)
Learn from two industry professionals on what it takes to make a profession out of your passion. In the digital world, hear from the perspectives of in-front of the camera and behind the scenes.
Guest speakers:
Ray Pfortner, Instructor at Tombolo Institute has worked in photography industry as an educator, agent, editor, consultant, and nature/environmental-issue photographer, from New York City to Seattle. He teaches all aspects of photography as well as the business of art for many institutions.
Don Milgate, Owner of Milgate Studio operates a commercial photography studio in Seattle where his work includes editorial, advertising and portrait shoots in studio and on location, nationally and internationally, for a wide variety of clients.
September 22, 2021
Hiring tech talent – What recruiters are looking for (click here for recording)
The tech industry is a vibrant and growing one in the Pacific Northwest. Hear what seasoned IT professionals who have recruited and hired workers for this industry are looking for.
Guest speakers:
Tim Cunningham, Director of Recruiting at Pivotal Commware has an extensive background in recruiting key talent in both agency and corporate settings for domestic and international clients including Amazon, Microsoft, F5 Networks, Roche Pharma and many more.
Joseph Rogel, Sr. Technical Recruiter at Fuel Talent has a strong background filling roles in IT and other industries with niche technical and non-technical positions.
August 18, 2021
Virtual Reality – What is the latest development and how it is being used (click here for recording)
Virtual reality is changing the world of work and play. From games to training, VR is changing how we see the world. Explore this topic with insights from industry insiders who work with this technology so that you can be prepared for the future of work.
Guest speaker:
Deigratia Daniels, Chief Tech Officer at  Translucent Reflections Design Labs has worked over 20 years in the design, development, delivery, and implementation of technically advanced AR/VR/MR/XR platforms and products.
July 21, 2021
5G – What it is and what it means for everyday lives (click here for recording)
The next generation of telecommunication is here. But what does 5G means to you and your career? Explore this topic with insights from industry insiders who work with this technology so that you can be prepared for the future of work.
Guest speakers:
Joydeep Hazra, Product Program Manager at Nokia has worked in over 30 countries in Asia, Europe and the Americas leading various multifunctional and multicultural teams to promote technology based services.
Diksha Singh, Associate Engineer at T-Mobile works on design & validation of small-cell indoor radio solution to provide better coverage to residential customers. Currently, working on the small cell & PN products for enterprise customers. Has been in the industry for 2.5 years & enjoys working on different products, their network architecture, use cases, testing features & deployment strategies.
For individual instructor-led or self-paced online training, view our courses here. For positive, interactive, training for small groups delivered to your employees, contact us here.