Graphic Design Certificate Program
Dive into visuals and develop the key skills you need to thrive in the world of graphic design.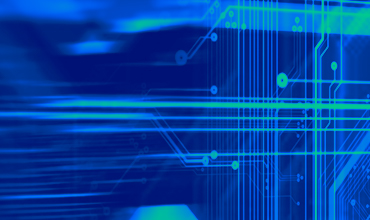 Why invest in Graphic Design Certificate Program
There are a tremendous amount of opportunities for graphic designers in today's digital economy.
Duration
246 course hours
Typically takes 12 months to complete
More info
Registration details
Graphic Design Certificate Program
Dive into visuals and develop the key skills you need to thrive in the world of graphic design.
What you'll be able to do—competencies
Discover the foundations of design through key concepts, terminology and principles
Develop visual design and UX design skills with key tools and techniques
Explore design portfolio principles and practices for print and digital production
Apply graphic design skills to capstone project
Program description
Designed with working professionals in mind, Tombolo Institute's Graphic Design Certificate Program focuses on small, hands-on courses taught by successful industry experts.
With a foundation of design principles, our courses focus on pre-press skills and the use of modern computer-based tools for page layouts, as well as digital image creation and enhancement.
With an emphasis on running a graphic design business, you'll learn to uncover client needs, estimate costs, price and market your services, collaborate and negotiate and prepare contacts.
With busy professionals in mind, this program is designed to be completed in six quarters on a part-time basis.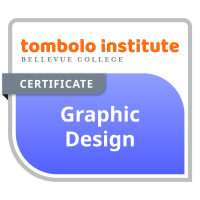 A digital badge (shown left) will be issued to students who successfully complete the certificate program.
This certificate program begins twice each year during spring and fall.
Program map
Click the link below for the recommended course path to complete the program.
View program map
Current Graphic Design Certificate Program Classes
Design Principles
Learn the basics of planning and designing a user-focused website.
Graphic Design Basics
Explore the basics of design terminology and concepts, and create two-dimensional compositions.
Drawing Basics
Explore basic sketching and drawing techniques, and discover the secrets of shading solid forms while learning to draw common objects.
Typography
Learn the fundamentals of typography.
HTML and CSS: Level 1
Create the content of a webpage with text, images and hyperlinks using HTML and CSS.
The Business of Graphic Design
Learn the nuts and bolts of the graphic design business.
User Experience (UX) - Design Fundamentals
Simulate the work of a design team in planning a website with user experience in mind.
Color in the Digital Age
Learn color theory and the practical application of color in graphic design.
Photoshop CC: Level 1
Explore Adobe Photoshop's array of tools and features for editing digital and scanned photographs.
Illustrator CC: Level 1
Master the basics of Illustrator vector graphics editor to create effective artwork for the Web and print media.
InDesign CC: Level 1
InDesign is a desktop publishing and typesetting software application for producing posters, flyers, brochures, magazines, newspapers, presentations, books and ebooks.
Logo, Icon and Symbol Design
Create icons, symbols and/or logos for your portfolio in this workshop-style course.
Print Media Design
Build on your design knowledge with the creation of posters, CDs, book covers and other print media.
Multi-Page Layout Design
Former title: Brochure, Catalog and Direct Mail Design
Learn what makes for great brochure, catalog and direct mail design.
Branding Business
Learn the principles and strategies behind creating and managing a strong brand for a business.
Graphic Design Certificate Capstone
Complete the Graphic Design certificate program with topics including print production and online portfolios.
FAQs
Are there any prerequisites for this program?
There are no formal prerequisites to begin the program. For graphic design computer courses, a prerequisite is a strong working knowledge of your computer's operating system.
How long does it take to complete the program?
The Graphic Design Certificate Program usually takes up to six quarters on a part-time basis to complete, but it must be completed in no more than 13 quarters or 39 months from the quarter in which you take your first class. You need to complete 246.5 course hours to earn a certificate of completion.
Is there a minimum number of classes I need to take per quarter?
The program was created with a busy adult in mind, so it is up to you to select the number of classes you take in a quarter. Our only requirement is that you complete the certificate within 13 quarters or 39 months.
What if I have extensive experience in some of the topics taught? Can I skip or substitute classes?
Yes, it is possible to substitute one required class with elective class. Substitutions will be determined by the department on a case-by-case basis and are subject to approval based on work history/experience and/or prior education. However, students must still complete a total of 242.5 course hours in order to earn a program certificate. To request a class substitution form, please email cetechprograms@bellevuecollege.edu.
Is it required to purchase the software used in class?
No, it is not required to purchase any software for your classes. However, if you pursue a career in graphic design, you will need to have your own software, especially if you work as a freelancer.
What kinds of computers do you use?
Our classrooms are equipped with PCs that utilize the latest versions of software to provide a cutting-edge education.
Are the Adobe and web software computer classed geared toward design students?
The computer classes are not specifically for design students. The emphasis in these classes is on learning software tools and usage.
If I complete this program with no prior experience, are there entry-level jobs I would be qualified for?
After finishing this program you will have enough tools to be successful as an entry-level graphic designer.
What are the technical and nontechnical skills a graphic designer needs to have?
Technical
Design, composition and typography principles
Drawing skills
Understanding in Windows or Macintosh (file/folder management, shortcuts)
Page layout in InDesign
Technical drawing skills in Illustrator
Digital imaging in Photoshop
HTML and CSS
Non-technical
Developing design, drawing and painting skills and understanding color will help you create more interesting projects and give you more ways of expressing your ideas
Creative flexibility and problem-solving skills will help you adjust to changes or additions in a project
Willingness to take a project to completion, even if it means working long or extra hours, will help build a reputation for reliability
Self-promotion and networking are an important part of a design career
Interested in custom learning solutions for your team?
Tombolo Institute Corporate Solutions offers tailor-made professional development programs to meet your organization's goals.
Get started