User Experience Design Certificate Program
Develop critical skills around the UX stack to influence new product development.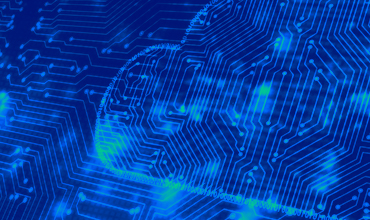 Why invest in User Experience Design Certificate Program
The average salary for UX/UI designer is more than $73,000
Job growth in this field trends along with job growth for web developers
Duration
196 hours of instruction
Typically takes about 9-12 months to complete
More info
Registration details
User Experience Design Certificate Program
Develop critical skills around the UX stack to influence new product development.
What you'll be able to do—competencies
Incorporate business and marketing goals while catering to the user
Improve the usability of the site and its acceptance by customers
Organize collected information into a usable taxonomy
Generate a data model for a website's search engine
Recognize the characteristics and design elements of usable websites
Generate clickable prototypes that effectively express how your design functions
Use heuristics to communicate usability standards
Create and test prototypes to understand how usability testing can improve human-computer interactions
What previous students are saying about this program
The learning format and schedule was helpful in allowing me to do freelance work and take care of my son, who was learning remotely during the pandemic.
Corey Gil
Program description
This User Experience Design Certificate program was developed by UX/UI design professionals. It provides students with a solid foundation in current user-focused design best practices and skills for online content.
Students learn how to apply design principles to development of web content, improve site usability, and create design documents using detailed procedures and guidelines. Topics include user experience research, UX information architecture, interaction design, usability studies, developing web content, graphic design basics, web accessibility, and design tools.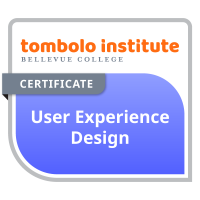 A digital badge (shown left) will be issued to students who successfully complete the certificate program.
This certificate program begins twice each year during spring and fall. Get notified on start dates by our newsletter here.
Program map
Click the link below for the recommended course path to complete the program.
View program map
Current User Experience Design Certificate Program Classes
Design Principles
Learn the basics of planning and designing a user-focused website.
User Experience (UX) - Design Fundamentals
Simulate the work of a design team in planning a website with user experience in mind.
HTML and CSS: Level 1
Create the content of a webpage with text, images and hyperlinks using HTML and CSS.
HTML and CSS: Level 2
Build on the web technology basics and develop more complex webpages.
Developing Web Content
Learn how to write compelling content for online resources.
Responsive Web Design
Explore how to design websites to provide an optimal online experience, with easy reading and navigation.
Graphic Design Basics
Explore the basics of design terminology and concepts, and create two-dimensional compositions.
User Experience Research
Learn how to optimize user experience research studies.
User Experience (UX) - Usability Studies
Usability refers to the factors that make a product, service or system easy for humans to use.
User Experience (UX) - Interaction Design
Generate effective user-centered designs for Web and software solutions through a variety of workshop-style sessions.
User Experience (UX) - Information Architecture
Information Architecture is the underlying premise for how content is organized in software and websites.
User Experience (UX) - Design Certificate Capstone
Utilize all the skills learned throughout the program to create a central part of your portfolio.
Who should consider this program
Those who want to develop their user experience research and analytical skills, understand user needs, conduct interviews and field studies, and create effective user-centered designs for web and software solutions.
FAQs
What can I do as a UX designer?

UX is a growing field with a wide range of job titles and responsibilities. You may see some companies advertising for UX/UI designers or similar titles. To be an effective champion for your users, most UX designer roles will require the following core skills:
Conducting research studies leveraging a variety of techniques to understand user needs and guide product decisions
Organizing content and information to create effective website navigation through building an appropriate taxonomy
Planning, designing and sketching clickable prototypes of user-centered sites using a variety of methodologies and tools
Proficiency in HTML and CSS, and designing websites responsive to different devices
Influencing and partnering across project teams including developers, visual designers, and product managers
What industries employ UX designers?

While the majority of UX jobs in Puget Sound are currently concentrated in the technology industry, recent job postings for UX professionals came from retailers like Nordstrom, manufacturers like Phillips, and non-profit organizations including the Fred Hutchinson Cancer Research Center.
How long does it take to complete the UX design certificate and what is the cost?
The UX Design Certificate will likely take up to a year on a part-time basis to complete, but it must be completed in no more than 13 quarters from the quarter in which you take your first class. This certificate does not include any electives.
Are there any prerequisites?
There are no prerequisites to begin the program. These courses assume that you are familiar with using personal computers and word processing. You should be comfortable in the Windows environment and be able to use Windows to manage information on your computer. Specifically, you should be able to launch and close programs, navigate to information stored on the computer, manage files and folders, and select text prior to taking the specific UX Design and HTML and CSS computer courses. Specific courses in the UX Design Certificate do have prerequisites.
Is there a minimum number of classes I need to take each quarter?
The program was created with a busy student in mind. It's up to you how many classes you take in a quarter. Our only requirement is that you complete the certificate within 13 quarters after taking the first class.
What if I have an extensive experience in some of the topics taught? Can I skip or substitute classes?
Yes, on case-by-case basis and subject to approval based on work history/experience and prior education, one of the required classes might be substituted with another Tombolo Institute at Bellevue College class. However, you must still complete the total number of required/substituted classes. To request a class substitution, please fill out the Class Substitution Request Form.
Interested in custom learning solutions for your team?
Tombolo Institute Corporate Solutions offers tailor-made professional development programs to meet your organization's goals.
Get started