Blog
View all
Digital Badges now issued for certificate program completions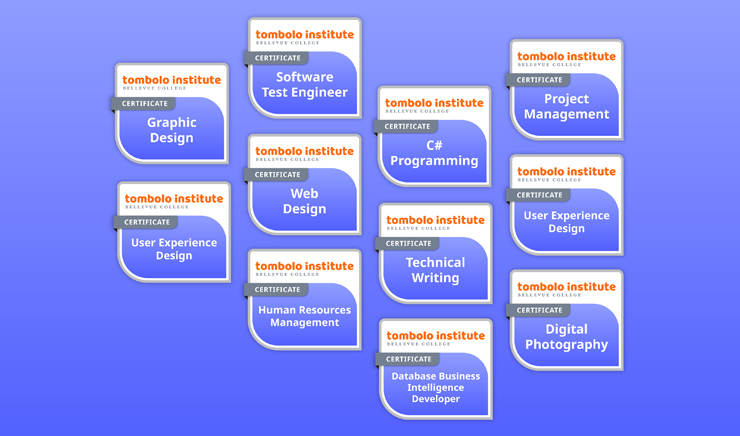 2/16/2021
Employers have been indicating for some time that college degrees play a somewhat lesser role than they used to play in their evaluation process for new hires. A stellar GPA and a diploma from a renowned university are no longer by themselves considered an adequate substitute for the essential skills that are important to employers. In response to this, Tombolo Institute will begin offering digital badges in the spring of 2021 to students and incumbent workers who complete certificate programs in areas such as technology, project management, and graphic and website design.
Jennifer Sohonie, executive director of continuing education for Tombolo Institute, states,
"Digital badges function as micro credentials that represent a specific acquisition of skills, knowledge or achievement. For learners, the badge can supplement their focused degree coursework, demonstrating additional training or certificates earned. The granular level of detail and information provided by digital badges is valued by industry and employers because it provides a much more comprehensive picture of a candidate. We will begin our program by issuing digital badges for the 11 different certificates we offer."
The Increasing Need for Alternative Credentialing
A report by the University Professional and Continuing Education Association (UPCEA) revealed that "non-traditional courses and programs with alternative credentialing have become increasingly popular and are a staple among higher education institutions." The report attributes this popularity to the fact that "the traditional bachelor's degree may not be suited for some of the millennial generation, and that other types of learners may favor an educational credentialing system built around recognition for learning outcomes in the form of competency badges or certificates."
How Digital Badges Help Students and Workers
Digital badges help students and workers demonstrate an additional dimension of their learning and acquired skills and can show a detailed account of an otherwise unrecognized pathway of accomplishment. Other benefits of digital badges for students and workers include the following:
Digital badges motivate learners to pursue skills and competencies by providing them with a verifiable credential.
Digital badges can help learners connect with poten­tial collaborators and employers.
Digital badges help workers transfer their on-the-job learning across different industries.
How Digital Badges Help Employers
A digital badge allows a recruiter to access metadata showing how and when the learner earned a badge, who issued it, and the assessments that were required to achieve the badge.
As a stackable credential, a digital badge not only demonstrates multiple achievements but also highlights the specific competencies that employers are looking for in new hires.
An employer looking to build a team to work on a project that requires specific competencies could set up a search within their organization for employees who have badges that verify those competencies.
The Importance of Representing Verifiable Achievements and Competencies
One major challenge facing digital badges is an apparent lack of standards, which can make it difficult for consumers of these rapidly propagating credentials to assess their value. A 2013 report by LINCS titled "The Potential and Value of Using Digital Badges for Adult Learners" suggests, "The criteria developed for a credible badge must align to educational standards, established business standards, or competency frameworks within specified professions or populations."
The LINCS report further states, "Recognizing learning and successes from any part of an individual's life — including achievements in both formal and informal settings not traditionally assessed or recognized — opens up possibilities for people of all ages to share a more complete narrative of their personal identity. Individuals or organizations with expertise and a willingness to put their reputation or brand on the line, for example, can give badges to those who obtain skills, knowledge, or achievements that they value."
Ensuring the Success of the Digital Badge Program
Sohonie says, "The potential of how these badges can be used is enormous. To ensure that potential is met, we need to educate our students about how to take full advantage of the badges they earn. Our goal is to help students understand how the badges they earn can act as a form of currency in the job market that pays a dividend in terms of new jobs, promotions and other career rewards. The badges we issue will be accessible by employers on Credly's Acclaim Platform. Each badge will contain rich metadata that provides the requirements and context in  which the credentials were earned and showcase the most complete picture of a student's accomplishments."
The value of the digital badges issued by Tombolo Institute rests on three pillars of credibility:
The badges are issued by an institution with a renowned reputation for educational excellence and strong ties to local industry.
The badges earned by students will be based in curriculum that has been researched and developed in collaboration with employers.
The students' achievements represented by the digital badge are verified by an instructor who is an industry expert who understands the skills and competencies employers seek.
We Help Shape Careers Through Online Education
Tombolo Institute strives to provide access to quality education for individuals who are looking to reskill and upskill. Our students want the flexibility to be able to work and pursue an education simultaneously. Our extensive online class offerings have been allowing students and working professionals to stay up to date on the latest technology and advance their careers by attaining high-value IT certifications. Since the COVID-19 crisis, we have transitioned online and expanded our offerings to make education and training opportunities available for those who may need to reskill for a new career. Whatever your situation, the Tombolo Institute is ready to help you advance along the career path that is right for you.