Human Resources Management Certificate Program
Prepare for the Human Resources (SHRM®) credentialing examination or lay the foundation for a career in human resources.
Why invest in Human Resources Management Certificate Program
Human resources can shape the culture of an organization and support the development of employees.
Schedule
Evenings, Weekends, Days
More info
Registration for first course
Human Resources Management Certificate Program
Prepare for the Human Resources (SHRM®) credentialing examination or lay the foundation for a career in human resources.
What you'll be able to do—competencies
Define and understand the essential roles and responsibilities of human resource professionals
Explain and apply strategies to manage employee relations, compensation and performance management
Recognize and assess human resource-related laws and compliance and liability issues
Develop strategies for recruiting the best employees as well as training and development
What previous students are saying about this program
Instructors were not only experienced practitioners, but incredible resources inside and outside the course. I'm still friends with 4 of the 9 instructors more than 10 years after completing my certificate.
Nancy Kasmar
Program description
Tombolo Institute's Human Resources Management Certificate Program was designed by industry experts for those who want to enter the field, or professionals looking to upskill.
In addition to preparing students for the Human Resources (SHRM®) credentialing examination, this program focuses on HR fundamentals, compensations and benefits basics, employment law, HR systems and metrics, performance management and employee relations, recruiting and retaining talent, communication, employment law, ethics and project management.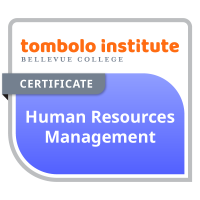 To earn the certificate, students must also design an HR strategy in a capstone course. A digital badge (shown left) will be issued to students who successfully complete the certificate program.
NOTE: We are currently phasing out the program in its current form. If you're looking to start our new program in this area, click here. If you're in the current program, please refer to the program map below for courses to complete the program and earn your certificate.
Program map
Click the link below for the recommended course path to complete the program.
View program map
Current Human Resources Management Certificate Program Classes
Who should consider this program
HR professionals who want to update, refresh, or add to their knowledge base
HR professionals in small organizations who want a broader perspective
HR professionals who want to advance their careers
Career transitioners who want to prepare for the HR profession
Managers or supervisors who need HR skills and knowledge
FAQs
What is Human Resources Management?
The human resources department is an essential business unit that focuses on supporting people, so they can accomplish organizational goals and contribute to the success of the organization. Primary activities include recruiting, hiring, compensation, training and development.
Human resources serve as an umbrella for many functions including the following:
Benefits – administration of medical, dental and retirement plans, as well other programs such as educational assistance
Compensation – development of a wage and salary program and variable pay systems such as bonuses and stock options, job analysis, job evaluations and performance management
Labor relations – working with labor unions in areas such as bargaining, mediation, and contract administration, or participation in the grievance process
Employee relations – depending upon the size of the organization, this might involve employee events, conflict resolution, employment law, diversity, discrimination, or other general employee issues
Training – coaching managers and supervisors, one-on-one career development, or organizational development
Recruitment – advertising, screening, and hiring qualified individuals into the workforce
Health, safety and security – risk management, worker's compensation, and OSHA compliance
Working in any one of the above areas qualifies you as a human resources specialist. However, having expertise in all areas and cross-functional skills means that you are a human resources generalist, which is the trend today.
What does the future look like in this field?

According to the Bureau of Labor Statistics, employment of HR, Training, and Labor Relations managers and specialists is projected to grow by 9% between 2016 – 2026. Employers are very selective, however, in hiring individuals with the right mix of educational and workplace competencies. Today, organizations are delivering their human resources services differently, with more emphasis on customer service, leadership and business skills, and strong interpersonal skills. Due to high turnover, retirement, and restructuring in this economy, recruiting talented people is also a key priority.
What does Tombolo Institute offer in human resources management?
We offer a non-credit certificate in human resources management through our Tombolo Institute. In this program, you may take either individual courses that interest you or complete the full certificate program. For seasoned HR professionals we offer select continuing education courses that qualify for SHRM® re-certification units. A human resources assistant credit certificate is offered through our General Business Division.
Can I get college credits for my certificate?
Since our programs are offered through the Continuing Education Division, we do not offer college credits, we offer Continuing Education Units instead. For many people in the professional world—particularly those who already hold a college degree—a current professional certificate has proven to be of more value than another academic degree that may take several years to complete and be less directed toward hands-on knowledge.
How will obtaining this certificate benefit me?

The HR Management Certificate can be earned within a short time period, and classes are offered at convenient times. The courses are taught by talented practitioners and consultants with direct experience in the field. A certificate demonstrates to your employer your expanded knowledge in the HR field and will certainly prove a worthwhile credential for future employers.
How do I get started in this program?
There are no prerequisites for registration. Anyone with an interest in enhancing skills is welcome. Just register for the courses you want.
What courses should I take?

Everyone should start with Essentials of Human Resources, which is the introductory course that gives an overview of an HR management career. Other required core courses and electives may be taken in any sequence with the exception of the Human Resources Certificate Capstone course. The capstone course may be completed only upon completion of the other seven required courses.
May I retake a class if I miss a session or want a refresher?
We cannot manage student absences by offering make-up sessions. Re-takes are not available.
What if I have extensive experience in some of the topics taught? Can I skip or substitute classes?
Yes, on a case-by-case basis and subject to approval based on work history/experience and prior education, one of the required classes might be substituted with an elective class. However, you must still complete the total number of required/substituted classes and elective classes to receive your certificate. To request a class substitution, please fill out the Class Substitution Request Form on our website.
How long will it take for me to receive a certificate?

Upon completion of 123 course hours including 102 hours of core courses, you may receive the Human Resources Management Certificate from Bellevue College. Students usually take two or more classes per quarter. Most classes are four or five weeks long and conveniently offered once a week. The overall time you need to complete the final certificate will depend on which courses you select and how many you take each quarter. Students typically complete the certificate in three quarters, but you may take up to 13 quarters (39 months).
What will it cost to complete a certificate program?

You pay for classes as you take them, so the total cost of a certificate will depend on which classes you choose. The total cost averages $3,100 depending on the electives (plus textbooks).
How do I get my certificate?

You must complete all required and elective courses in your program before receiving a Certificate of Completion. Once you've completed all your courses, you can request a Certificate of Completion. You'll be asked to complete a brief program survey, and then will be directed to the certificate request page. Your request will be forwarded electronically to an advisor for review. You will be contacted by the college if there are any questions. You can expect to receive your Certificate of Completion in the mail about three weeks after filling out your request.
Is your program affiliated with SHRM?
Tombolo Institute is a SHRM® Approved Provider, we do offer classes that qualify for SHRM® re-certification units. (SHRM, which stands for Society for Human Resources Management, is the national professional organization for HR.) Our program was developed with advisory board members who are members of SHRM, and most of our HR instructors are PHR® (Professional in Human Resources) or SPHR® (Senior Professional in Human Resources) certified professionals. For more information, visit the SHRM website. The local chapters for SHRM are: Lake Washington, Northwest, Seattle, and South Seattle.
Does Bellevue College give SHRM® certification exams?

No, these exams are administered by SHRM. Tombolo Institute provides a comprehensive certification exam preparation course.
Will Bellevue College help me get a job?

Tombolo Institute does not have a formal job placement service connected with this program. Bellevue College Main Campus has an active Career Center that offers classes on job search skills, posts job openings, and has an active internship program. Check out the Career Center website at http://bellevuecollege.edu/careers. Find resources for people in the field of HR at https://humanresourcespath.com/career-resources.
Can I expect any changes or additions to these programs?

Definitely. Human resources is an ever-evolving profession. We are constantly on the lookout for courses to add to our curriculum to keep it up to date. Our programs are designed to allow us to respond quickly to changing needs in the business community.
Interested in custom learning solutions for your team?
Tombolo Institute Corporate Solutions offers tailor-made professional development programs to meet your organization's goals.
Get started