Web Design Certificate Program
Acquire design and development skills to create effective sites online.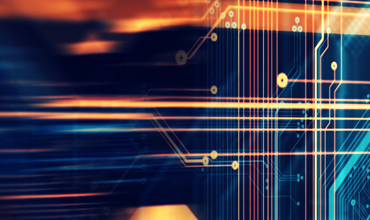 Why invest in Web Design Certificate Program
Employment of web developers is projected to grow 13 percent between 2018 and 2028
Duration
186 hours of instruction
Schedule
Evenings, Independent
More info
Registration details
Web Design Certificate Program
Acquire design and development skills to create effective sites online.
What you'll be able to do—competencies
Discover design principles for print and digital media
Develop web design foundation with HTML and CSS
Explore design tools like CMS, text editors and authoring software
Create websites that are responsive to different presentation formats like desktops, mobile devices and more
Develop skills in optimizing web properties for search engines
What previous students are saying about this program
I can switch my career. I can learn something different and I can follow my dreams. Some times you just need a little kick to do it. The web design certificate program. This was my kick.
Alicja Czajka
Program description
Our Web Design Certificate Program was created by an advisory board of web designers and managers from the area's leading employers and by a team of instructors with deep industry experience. This challenging program teaches skills that are directly transferable to the workplace. Hands-on classes offer high-level training in the most current industry practices and emphasize learning by doing. Instructors are respected professionals currently working in the field.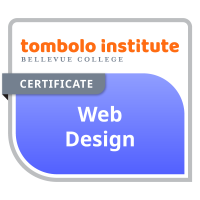 A digital badge (shown left) will be issued to students who successfully complete the certificate program.
This certificate program begins twice each year during spring and fall. Get notified on start dates by our newsletter here.
Program map
Click the link below for the recommended course path to complete the program.
View program map
Current Web Design Certificate Program Classes
Design Principles
Learn the basics of planning and designing a user-focused website.
User Experience (UX) - Design Fundamentals
Simulate the work of a design team in planning a website with user experience in mind.
HTML and CSS: Level 1
Create the content of a webpage with text, images and hyperlinks using HTML and CSS.
HTML and CSS: Level 2
Build on the web technology basics and develop more complex webpages.
Photoshop CC: Level 1
Explore Adobe Photoshop's array of tools and features for editing digital and scanned photographs.
Responsive Web Design
Explore how to design websites to provide an optimal online experience, with easy reading and navigation.
Design Tools
Learn the process and tools involved in building a website.
Scripting for Web Designers
Gain a hands-on introduction to webpage scripting for designers.
jQuery Fundamentals
Use jQuery JavaScript to add professional-quality code modules and UI widgets.
Search Engine Optimization (SEO)
Finetune websites for optimal search engine results.
Web Accessibility
Study the current guidelines and requirements for making a website accessible to everyone, including users with disabilities.
Web Design Certificate Capstone
Prepare for your final presentation in the last class of the certificate program.
Who should consider this program
Web designers
Digital marketers
Ad agency staff
FAQs
Who created the Web Design Certificate Program?
The program was created by the Technology Education department faculty and staff with input from local industry professionals from retail, municipal, corporate, small business and nonprofit areas. These professionals helped us select courses that best reflect the set of skills designers need to succeed in the field. Many of the courses have been part of our Continuing Education program for years; others were created specifically for the program.
What can I do as a web designer?

The primary job responsibilities associated with web designers are:
Designing attractive and useful web pages
Creating storyboards to present to clients
Defining the look of the site using features such as color, typeface and layout
Factoring in security and download speed of the design pages
Creating the navigational path for user movement within the site
Determining what information appears on each page
Laying out the components of individual web pages
Performing usability testing
In general, web designers work with others, including marketing people who define the content of the website, and graphic designers who are responsible for graphic images appearing on the site.
What industries employ web designers?
According to the Washington State Employment Security Department, the top industries that employ web designers in King County are:
Prepackaged software
Computer integrated systems design
Computer processing and data preparation
Information retrieval services
State government
Aerospace
Online retailers
Telecommunications
Are there websites listing web design jobs?

Yes, there are both industry-specific and many general websites you can search for web design jobs. We recommend, before you make a training commitment, that you research many job descriptions to familiarize yourself with the types of skills employers require.
What are the technical and nontechnical skills a web designer needs to have?
Because software is used extensively and changes frequently, this list is just a guideline. Skills can vary immensely from industry to industry. For instance, a designer working on a banking application might be required to have accounting skills while a designer in the retail industry may have to know about industry regulations such as Sarbanes-Oxley. The following list provides just some of the basic common technical skills potential job seekers might find in a job posting:
Technical
Ability to use website creation languages and software tools
Ability to create attractive page layouts
Nontechnical
Self-motivated
Ability to learn technical concepts and tools quickly
Attention to detail
Ability to manage time
Ability to work on one's own
Ability to resolve conflicts
Ability to work effectively with others who may want to do things differently
Ability to be flexible and change objectives
Strong written and verbal communication skills
What level of skill maintenance is required for this field?

It's high. This technology is changing rapidly, and one must stay current to be effective. Remaining current can be accomplished by reading industry publications and books as they come out, attending conferences, and taking short courses.
If I have no experience and do this program, are there entry-level jobs I would be qualified for, and what is the salary range?
After finishing this program, you'll have enough tools to pursue entry-level web designer jobs. Often you will be working with a team and will learn additional skills from your experienced co-workers. The salary range depends on many factors, and we suggest you look at the U.S. Department of Labor, Bureau of Labor Statistics, Occupational Outlook Handbook. In addition, labor market information for King County and Washington State is available.
How long does it take to complete the program?
The Web Design Certificate will usually take up to a year on a part-time basis to complete, but it must be completed in no more than 13 quarters from the quarter in which you take your first class.
Is there a minimum number of classes I need to take per quarter?
The program was created with a busy student in mind. It's up to you how many classes you take in a quarter. Our only requirement is that you complete the certificate within 13 quarters after taking the first class.
Are there any prerequisites?

There are no prerequisites to begin the program. These courses assume that you are familiar with using personal computers and word processing. You should be comfortable in the Windows environment and be able to use Windows to manage information on your computer. Specifically, you should be able to launch and close programs, navigate to information stored on the computer, manage files and folders, and select text prior to taking the specific Web Design computer courses. Specific courses do have prerequisites.
Do you have to take classes in a specific order?
You can take classes in any order except where noted otherwise in class prerequisites (For example, you will need to take the HTML and CSS Level 1 before taking HTML and CSS Level 2.) Taking the core classes in the order outlined in the Visual Course Planning Guide is recommended. Some electives may be taken prior to completing the required classes. Be sure to check the prerequisites for any electives prior to registering. All required classes must be completed before enrolling in the Web Design Capstone course.
What if I have an extensive experience in some of the topics taught? Can I skip or substitute classes?
Yes, on case-by-case basis and subject to approval based on work history/experience and prior education, one of the required classes might be substituted with an elective class. However, you must still complete the total number of required/substituted classes and elective classes. To request a class substitution, please fill out the Class Substitution Request Form.
What happens if I'm close to the end of the program and a class is cancelled or not given that quarter?

We'll allow for an extension or select/approve a substitute class for you to complete the program.
Are these classes software specific?
Some classes, such as Web Graphics, may use specific software.
What kind of computers do you use in class?

Our classrooms are equipped with personal computers with current versions of software.
Where are the classes held?

These classes are held at the Bellevue College North Campus. The current quarterly print and web schedule always specifies the location of each class.
Do I have to buy the software used in class?

You don't need to purchase the software to take your class. Our classrooms are equipped with PCs with current versions of software loaded for your use. If you pursue a career in web design, you might need to have your own software, especially if you work as a freelancer. By taking a class at Bellevue College, you are eligible to purchase full version software at a discounted price at our bookstore. Please note that this software is for academic use only.
Are additional supplies and materials required?
If a book is required for your class, you'll be given the book when you arrive. We recommend you bring a USB drive to class, and paper and pencil for taking notes. If you prefer to use a MAC you may bring your laptop but cannot connect it to our network.
May I retake a class if I miss a session or want a refresher?

Retakes are not permitted.
How do I get my certificate?

You must complete all required and elective courses in your program before receiving a Certificate of Completion. Once you've completed all your courses, you can request a Certificate of Completion. You'll be asked to complete a brief program survey, and then will be directed to the certificate request page. Your request will be forwarded electronically to an advisor for review. You will be contacted by the college if there are any questions. You can expect to receive your Certificate of Completion in the mail about three weeks after filling out your request. Retain your individual class completion certificates in case there is any discrepancy.
How can I register for classes?
Register online
Register by phone by calling customer service at (425) 564-2263
Register in person at our North Campus
Mail registration to 14673 NE 29th Place, Bellevue, WA 98007
Register by fax at (425) 564-3113
Interested in custom learning solutions for your team?
Tombolo Institute Corporate Solutions offers tailor-made professional development programs to meet your organization's goals.
Get started